Our products are engineered to the highest standards using the highest quality steel. Your thumb will last you for many years with minimal maintenance. All thumbs are built to machine specs for each machine.
No Link Thumbs
We use A514 steel in the construction of our excavator thumbs to ensure years of trouble free service. Our thumbs are engineered with a solid steel body to eliminate twisting. Our non-link hydraulic thumbs can rotate up to 140 degrees and fold up tight into the storage position when not in use. We can provide thumbs for almost any machine up to the 220 weight class. All thumb kits come with a replacement main pin (treated, ground, and polished 4140),hydraulic cylinder, anchor brackets for top of cylinder, and all necessary stops and grease fittings.
Link Thumbs
Our link thumb utilizes all of the same features as the non-link, but with the addition of the linkage on this thumb it is more powerful, moves through its range of motion faster, and is capable of rotation up to 175 degrees.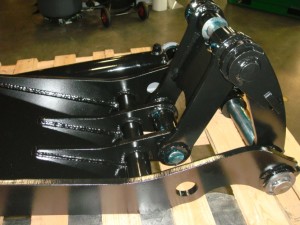 Pins and Bushings
All makes of machines have different sizes and strength requirements of  their pins and their bushings. We can manufacture pins and bushings for any machine, or any size or weight. View our page about our bushings and full line of excavator pins and bushings.
Quick Couplers
We offer a high quality wedge style quick coupler. Adding our q.c. to your machine will make attachment changes on your excavator fast and easy. With our q.c. there is no need to remove the pins from your machine to complete a bucket change, just remove the two bolts holding the wedge, remove the wedge and the bucket is ready to be removed. If your machine currently has a thumb on it, adding our q.c. will not change the tip radius of your buckets so no thumb modification is required.

Rippers
Our rippers are made with A514 steel and come with a serrated cutting edge as well as a replaceable tooth on the tip.
Brush Rakes
Our brush rakes were designed to handle the most demanding land clearing jobs. Built with A514 steel and engineered to resist the twisting that is common in rakes built by so many other manufactures. We build rakes in widths from 36″ to 60″ with 5 or 6 tines depending on the configuration of your machine. Replaceable teeth on the tips of the tines are available as an additional option.