What our customers have to say about us and our products. These are actual testimonies sent to us by our customers and they have not been edited in any way other than to protect their identity. Any grammatical, or punctual errors are exactly as we received them.
Hey Tom!
Hope all is well with you and your family !
Well just thought I would send you a picture of the Thumb installed on the machine!
What a nice piece of Hardware!I must tell you ! It was a pleasure doing business with you !
The thumb fit was perfect ! It must be a little concerning designing and producing a piece from someone's (that you never dealt with before) measurements !
Anyway just want you to know I appreciated the time and effort you put into this project!
Thank you,
Mike M
College Point NY
Machine: Komatsu PC45
.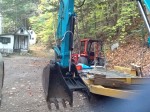 Pickin' fleas off the dog now!!!  Got it all mounted now, used it a bit and it's very clear that your design is extremely PERFECT!!!!!
Thanks a bunch again Tom!  I wish your autograph was on the thumb!
Bruce A
Ontario, Canada
Machine -JD 35ZTS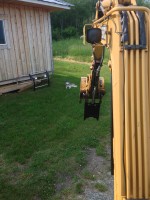 Michelle thank you, and Tom, for the professional and expeditions way in which you conduct your business. In a world where the majority of the companies claims to know everything and do nothing yours is a breath of fresh air. If the thumb is a measure of  your business I'm sure it will give me many, many great years of service.
Frank S
Shelton, CT
Machine – IHI 35NX
Tom,
Got the thumb on Thursday, and we welded it on Friday night. Works great. Glad I spend the money to go with a quality thumb. Moved a 1500-2000 lb stumb with it on Sat,and a bunch of logs. I dont think I could bend it if I tried. I justhave to have a lighter touch when I grab branchs because that thumb will force the branch down between the teeth and shear them right in two.
Thanks for the quality product.
If you remember I own a machine/weld shop but didn't want to put the time/money/effort into building one myself. Decided to buy one instead. Glad I did. I try not to ABUSE my equipment, but it does get used hard. I used that thumb to clear logging tree tops this winter. I moved over 100 logs and about 20 cord of firewood. Its been amazing. The geometry is worked out exactly and the thing is rock solid. Its hard to grab a log exactly in the center, and sometime thethumb gets sideloaded or a twisting load. No issue, no bending. Its perfect.
Mike F
Lititz PA
Machine:Kubota KX61.
WE HAVE A BUNCH OF TESTIMONIALS!!!! WE JUST NEED TO ORGANIZE THEM AND UPLOAD THEM! CHECK BACK SOON!