Excavator Thumb For Sale!
BUY AN EXCAVATOR THUMB HAND MADE IN THE USA!
THUMBS ARE ENGINEERED SPECIFIC TO YOUR MACHINE!
More than 30 Years Experience Building Hydraulic Thumbs for Excavators!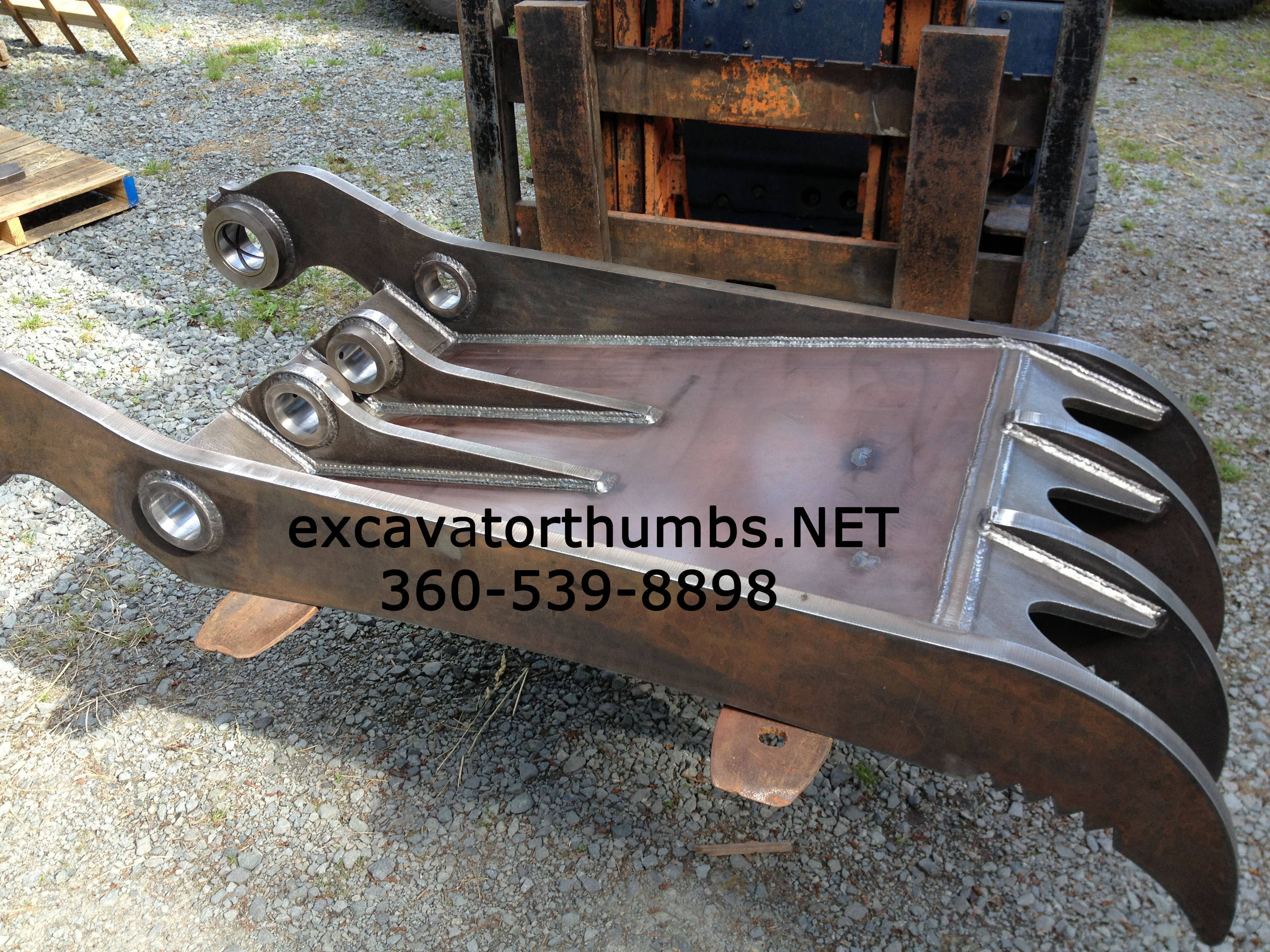 Click an image for larger view!
Toms Thumbs make adding a hydraulic thumb to any excavator or backhoe more efficient  and more valuable to your business. Our hydraulic thumbs for excavators feature a solid steel body construction to help eliminate twisting.We use high carbon A514 steel in the construction of our thumb bodies. A514 (also known as T-1) has a high tensile strength and resists wear very well. Rotation of 130 degrees or more can be achieved with our non-link thumbs and when not in use fold up tight in the storage position. We manufacture thumbs for all machine sizes up to the 220 weight class. Our thumb excavator are compatible with any quick coupler style and once installed require very little maintenance (grease) and never need to be removed. Our link and non-link excavator thumbs will make your equipment and employees more efficient and maximize productivity on the job site.
Here at Excavator thumbs.net we don't subscribe to the one size fits all theory when it comes to building hydraulic excavator attachments. We engineer every thumb to the specifications of each individual machine. The result is a product that is made for your excavator, that will perform with any quick coupler you utilize, and be the proper fit for your buckets not only in width but have the tip radius (length) that matches perfectly with your existing buckets and other attachments. Because we custom build every thumb, we do not maintain any inventory. By doing business this way we are able to work out of a smaller facility that runs more efficiently with a much smaller overhead which allows us to save our customers more money.
Our staff has a combined 36 years of experience engineering and manufacturing heavy equipment attachments and track hoe thumbs for Komatsu, Case, John Deere and all major manufacturers that need hydraulic thumb attachments.  While our main focus now is  thumbs for excavator and backhoe thumbs we can help you with any need you have from quick couplers, rippers, brush rakes, and rotating utility grapples. Plans for excavator thumbs can also be purchased for some machines separately.
Thumb excavator attachments will increase the productivity of your machine, allowing you to get the most out of your investment. Whether you purchase a new or used thumb from us, you are getting the toughest thumb in industry built by hand from the best materials.
We have recently added brand specific excavator thumbs due to popular demand. We will continue to add lists of excavator brands and the hydraulic thumbs or quick couplers we have made for them. For now, you can see an updated list on our hydraulic thumbs for Caterpillar excavators page.
Excavator thumbs for sale in the US and Canada. Please contact us for other countries.
We can build an excavator thumb for any type of machine but it should be known that backhoe thumbs require some special considerations simply due to how the stick can rotate from side to side. Please make sure you contact us about the specifics of your machine if you are needing a backhoe thumb. Some more information can be found from our backhoe thumb page. In some instances our competitors like USA Attachments may be a better choice, but please call us first!

Our machine lists have been upgraded to include thumbs for Volvo, Takeuchi, and IHI excavators.